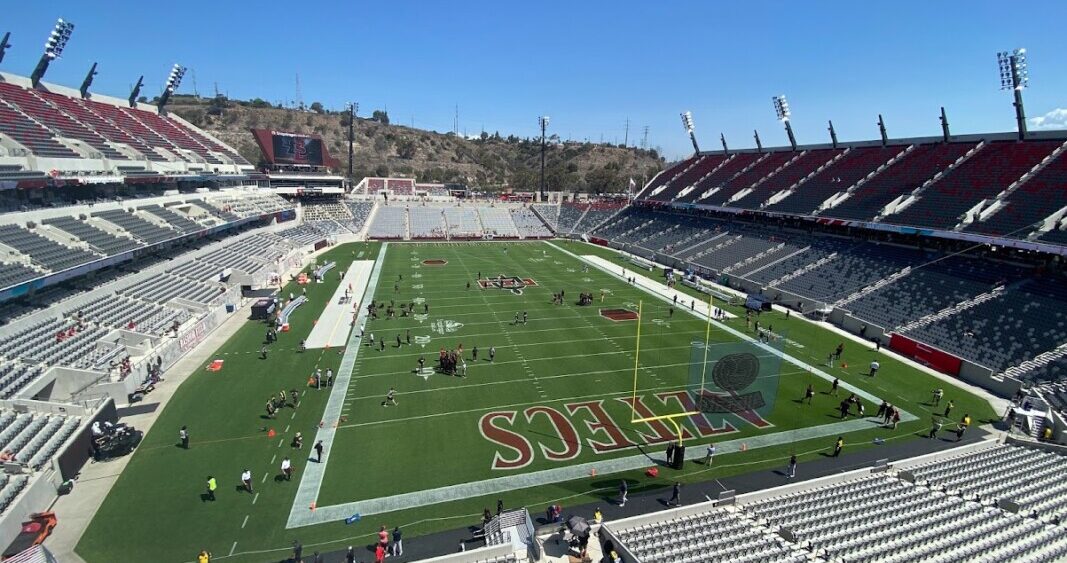 Snapdragon Stadium Opens
On September 3, 2022, Snapdragon Stadium, the new home to San Diego State University's (SDSU) football team, as well as the San Diego Wave FC, opened with much fanfare. The SDSU Aztecs hosted the Arizona Wildcats as a crowd of 35,000 kicked off the season and marked the beginning of a new era of growth for SDSU. (Read more about the redevelopment of the old Qualcomm Stadium site here.)
This project will always be a memorable one, as it spanned COVID-19 and much of the team's collaboration mirrored society's response to the pandemic. When the project began, the design team was regularly meeting in person. Together, the design team had been coordinating each of our disciplines as we began working alongside our design build partners and pushing towards final design and into construction. However, as the pandemic began and our ability to meet in person was impacted, everyone was adapting to a new virtual setting. In the moment, there were so many unknowns about how this would affect the project. Typically, the team has grown accustomed to the usual in-person design meetings where designers and stakeholders are all together collaborating and coordinating the design in real time. Because of travel restrictions and social distancing, we were all pushed into new remote working conditions to work to complete the project design in a new environment. In the moment, it was stressful to navigate this new way of working on a large-scale project with so much meaning to the University and the city of San Diego. Fortunately, as the project moved from design into construction, many of the COVID restrictions eased and the project was able to return to a more standard approach with typical site visits throughout construction.
While the design and construction team certainly experienced new obstacles with the project spanning a global pandemic, the project was still able to move forward without delay and succeed in delivering a top tier facility in record time to SDSU and the city. The success of the project was the result of truly great partners across the entire team and was also aided by SSR's existing relationships with many of our partners from previous projects.
Looking back, SDSU's Snapdragon Stadium is a project that will always be memorable to me personally. The adaptability of the entire project team is truly an impressive feat and showed the resilience of all those involved. SSR is extremely grateful to have helped played a role in this new era of growth, and we hope Snapdragon Stadium can help to facilitate great memories for years to come. Go Aztecs!